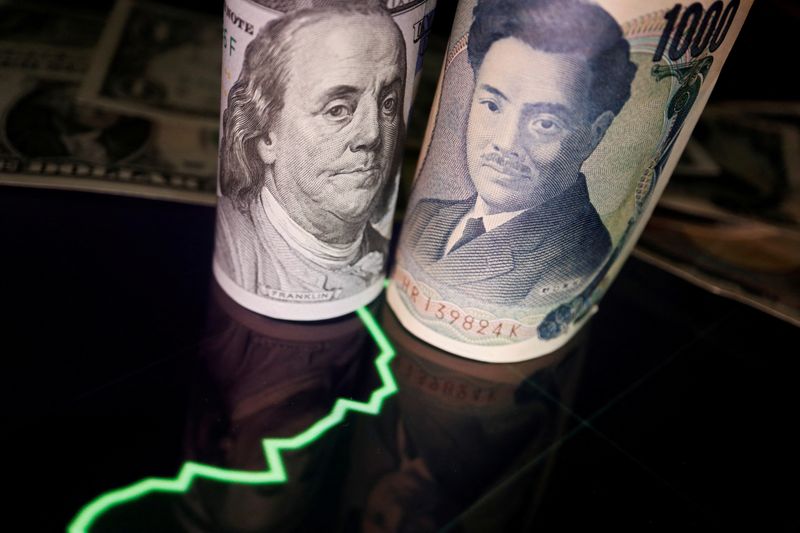 Oct 4, 2023: The yen was sitting barely on the stronger side of 150 per dollar on Wednesday, after an unexpected but short-lived surge in the previous session stoked speculation that Japanese authorities could have intervened to support the currency.
The Japanese currency was marginally lower at 149.16 per dollar in Asia trade, after surging nearly 2% at one point on Tuesday to 147.30. The spike came after a slip to 150.165 per dollar, its weakest since October 2022.
"Them stepping in here would be perfectly consistent with recent warnings from top officials and past behaviour," said James Malcolm, head of FX strategy at UBS.
"Authorities may be unable to turn the trend in FX markets immediately. Yet entering the market in size provides a strong signal and helps buy time for other things to fall into place that in the fullness of time then contribute to position unwinds."
Japanese authorities last year intervened to prop up the yen for the first time since 1998.
Other currencies similarly fell against the yen on Tuesday, with the euro slipping more than 1.5% to a low of 154.39 yen. It has since recovered some of those losses and last bought 156.14 yen.
Sterling stood at 180.16 yen, after falling to a more than two-month low of 179.44 yen in the previous session.
Japanese Finance Minister Shunichi Suzuki said on Wednesday that authorities will take appropriate steps against excessive moves in the yen "without ruling out any options".
Japan's top currency diplomat, Masato Kanda, also said the same day he would not comment on whether Tokyo intervened in the exchange rate market overnight, although he said that "we have only taken steps that have the understanding of U.S. authorities".
U.S. Treasury Secretary Janet Yellen said last month that whether Washington would show understanding over another yen-buying intervention by Japan "depends on the details" of the situation.
"Given that an intervention is basically 'buying time', I think the Ministry of Finance is waiting for the most critical moment," said Norihiro Yamaguchi, senior Japan economist at Oxford Economics, who did not see Tuesday's move as likely due to intervention.
DOLLAR POWER
In the broader currency market, the dollar stayed on the front foot following upbeat data on Tuesday showing U.S. job openings unexpectedly increased in August, amid a surge in demand for workers in the professional and business services sector.
The greenback was steady at 107.06 against a basket of currencies, after the dollar index jumped to a nearly 11-month high of 107.34 in the previous session.
Sterling steadied at $1.20805, languishing near the previous session's nearly seven-month low of $1.20535.
The euro edged 0.02% higher to $1.0469 but did not stray far from Tuesday's low of $1.0448, its weakest level since December.
"Markets have been rattled by yet another positive U.S. data surprise vindicating the (Federal Reserve's) mantra of higher for longer," said Rodrigo Catril, senior FX strategist at National Australia Bank (OTC:NABZY).
"The jump in job openings suggests the U.S. labour market is easing less rapidly than implied by recent data releases … That said, not all details in the report pointed to a strong labour market."
Elsewhere, the New Zealand dollar fell after its central bank held the cash rate steady at 5.5%, as policymakers grew more confident that past hikes were working to bring down inflation as desired.
The decision sent the kiwi sliding more than 0.5% to a nearly one-month low of $0.5871. It last traded $0.5901.
The Australian dollar rose 0.25% to $0.6317, nursing some of its roughly 1% fall on Tuesday after the Reserve Bank of Australia held interest rates steady for a fourth month and showed no urgency to hike again.
Source Courtesy: Reuters